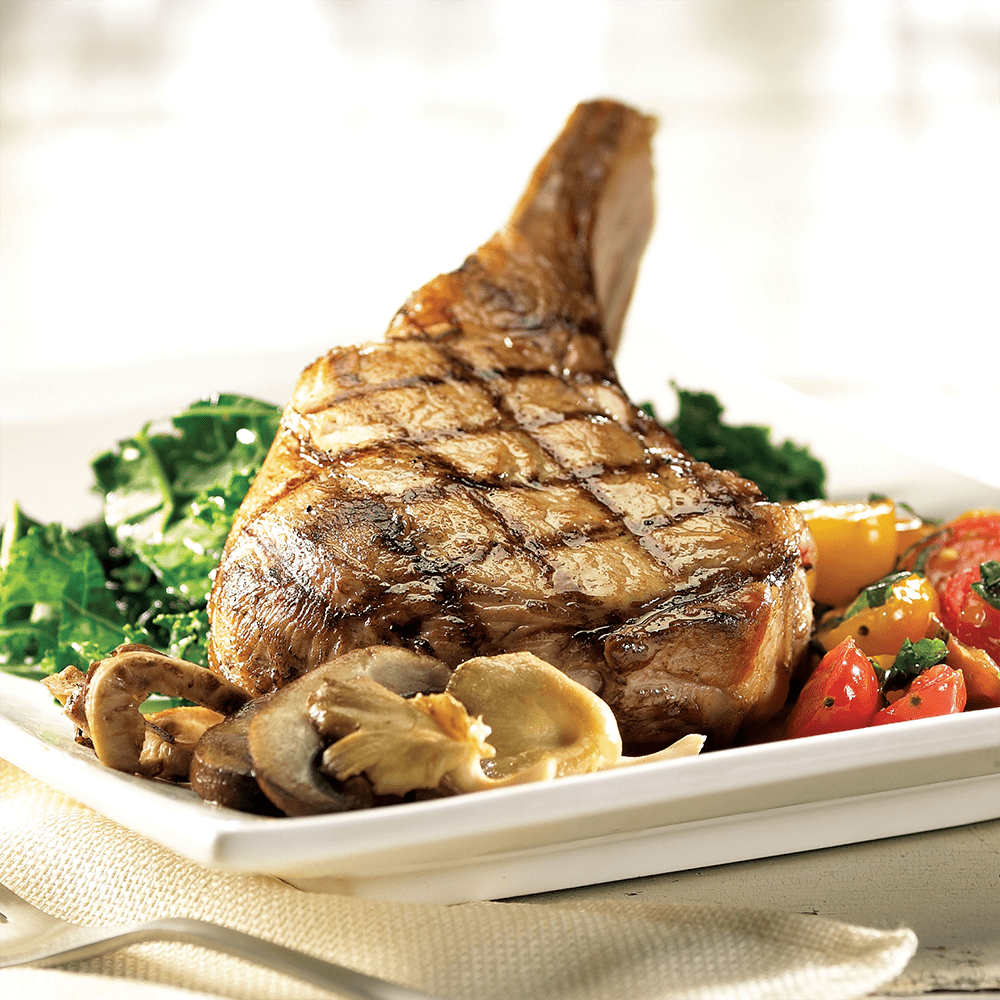 Veal Chops and Mushrooms
Prep Time: 15 minutes | Cook Time: 2.5 hours
Ingredients
2 teaspoons grapeseed oil, divided
1.5 pounds veal
Kosher sea salt
1/2 ounce dried porcini mushrooms
1 cup boiling water
1 cup chopped onion
1/2 cup chopped celery
1/2 cup chopped carrot
1 tablespoon double-concentrated tomato paste
Several sprigs of fresh thyme
2-3 fresh bay leaves, or one dried
1/2 cup port wine, divided
1/2 cup dry red wine
Freshly cracked black pepper
A splash of sherry vinegar
Directions
Preheat oven to 325°F.
Soak the porcini mushrooms in about one cup of boiling water until soft. Lift the softened mushrooms from their soaking liquid and set aside, reserving the mushroom soaking liquid. Roughly chop the mushrooms and set aside.
In a covered braiser or other wide, heavy-bottomed pan with a lid, warm 1 teaspoon of the oil over medium heat until shimmering. Season the veal chops with salt on all sides and add them to the pan in batches, browning them well all over, and adding the remaining oil to the pan as needed. Set the browned meat on a plate or platter and set aside.
Add the onion, celery, and carrot to the pan, season with a big pinch of salt, and cook until slightly softened, stirring them to scrape up any browned bits from the bottom of the pan. Clear a spot in the bottom of the pan and add the tomato paste, allowing it to toast for a minute before stirring it through.
Turn off the heat, arrange vegetables until they are in an even layer, then add the veal chops back to the pan on top of the vegetables with the cut sides of the bones facing up. Scatter the chopped porcinis and thyme around the pan, and then add the bay leaves, the reserved mushroom soaking liquid (leave any grit behind), 1/4 cup of the port, and the red wine. Cover tightly and place into the oven for 2 to 2.5 hours, until the meat is very tender. Check the meat periodically and add a bit of water if the mixture looks dry.
Remove the chops and set them aside, covering them with foil to keep them warm. Remove the bay leaves and any thyme stems and discard. Remove the softened vegetables from the pan, covering to keep warm. Return the pan to the stovetop and add the remaining ¼ cup of port, then cook over medium heat for another 10-15 minutes until the sauce is slightly reduced. Add the sherry vinegar and lots of freshly cracked black pepper, stirring through. Return the veal chops to the pan, stirring to coat them in the sauce and re-warm them before serving.