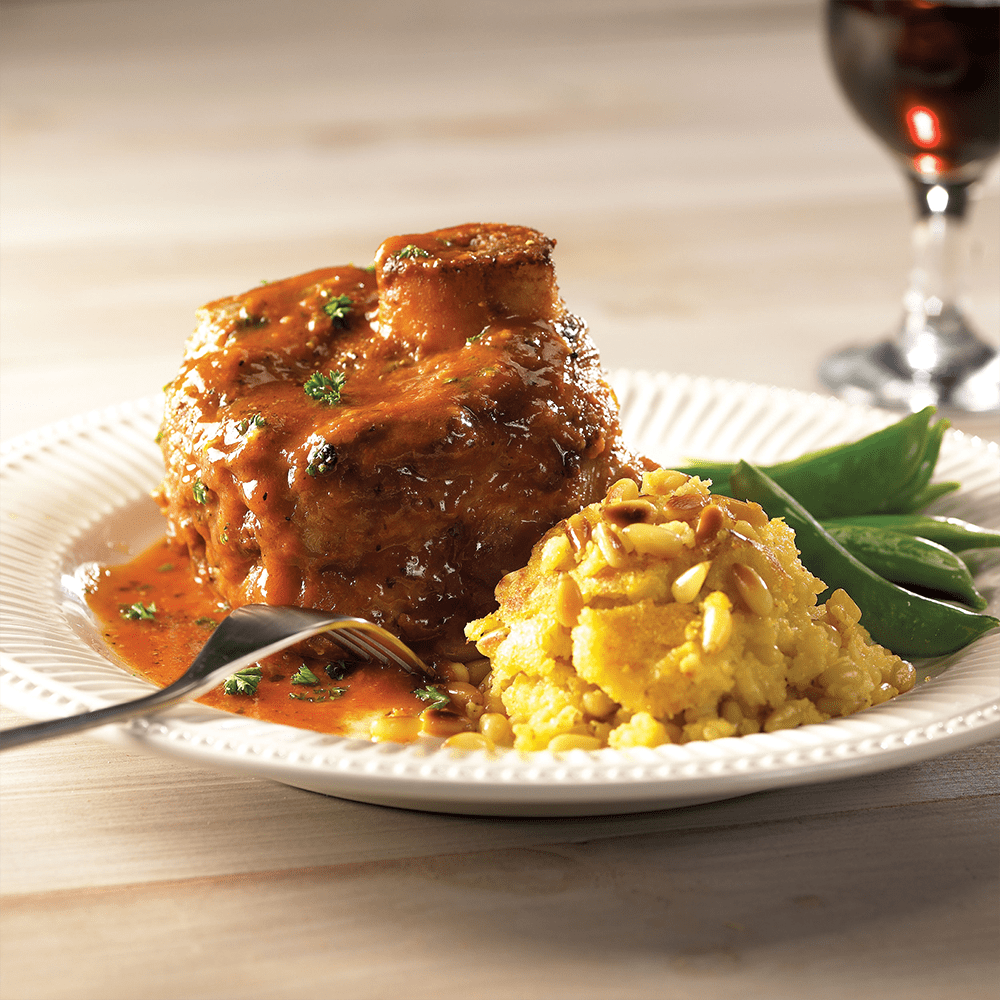 Veal Osso Bucco
Prep Time: 30 minutes | Cook Time: 50 minutes
Ingredients
4 pounds veal cross cut shanks, cut 1-1/2 inches thick
2 tablespoons olive oil
1 teaspoon salt
1 cup chopped onion
1/2 cup finely chopped carrot
3 cloves garlic, crushed
1 can (14-1/2 to 16 ounces) Italian-style diced tomatoes, undrained
1 cup dry white wine
1 teaspoon dried basil leaves
Gremolata:
1 tablespoon chopped fresh parsley
2 teaspoons shredded lemon peel
1/2 teaspoon finely chopped garlic
Directions
In Dutch oven, heat 1 tablespoon oil over medium heat until hot.
Add veal shanks, 1/3 at a time, and brown evenly, turning occasionally; add remaining 1 tablespoon oil as needed. Remove shanks from pan; season with salt.
Add onion, carrot and crushed garlic to pan; cook and stir 6 to 8 minutes or until tender. Add tomatoes, wine and basil. Return shanks to pan; bring to a boil.
Reduce heat to low; cover tightly and simmer 1-1/2 hours or until veal is tender.
Meanwhile, in a small bowl combine gremolata ingredients; set aside.
Remove shanks to warm platter. Skim fat from cooking liquid. Cook liquid over high heat until slightly thickened, stirring occasionally.
Spoon approx. 3/4 cup sauce over shanks. Sprinkle shanks with gremolata; serve with remaining sauce.
After shanks are added to tomato mixture, cook in preheated 325°F oven; cooking time remains the same.
Cook's Tip: Veal cross cut shanks may be tied with string to help retain shape, if desired. To prepare in oven, use tightly covered Dutch oven or roasting pan.